Southeast Portland Rotary Club
We're part of District 5100, and we are trying a new meeting schedule -- one "club meeting" per month on the second Monday of the month at 1 pm early in the month, and then two additional gatherings later in the month -- one, a club commuinity project; and the other a "happy hour" gathering.
These second-Monday live, in-person 1 pm club meetings are at historic Moreland Presbyterian Church, S.E. 19th and Bybee Boulevard in the Sellwood-Westmoreland neighborhood of Southeast Portland. From Bybee Boulevard in Westmoreland, turn south onto 19th, then be ready for an immediate right turn into the church's parking lot (or park on the street nearby). Walk down the ramp from the parking lot into the door, and turn right into the large Community Room in which we meet.
Rotarians and all guests and visitors are always welcome!


---
Not yet a Rotarian... But curious about it?



Take 4 minutes to watch this video -- click on the picture at left -- and see what Rotary is all about! If you're interested, come to our meeting as our guest, and experience Rotary for yourself! Fellowship with local community leaders... Making a difference locally, and around the world! Want to know more about OUR club? Scroll down!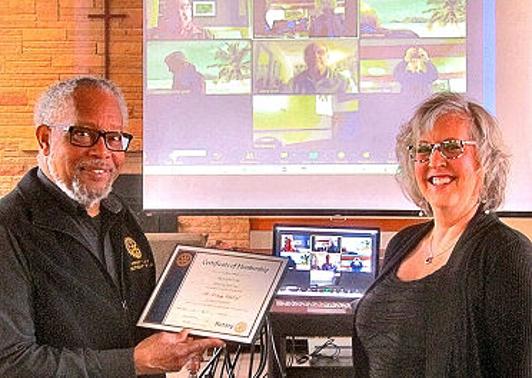 On June 20, 2022, Club President Bruce Poinsette inducted our newest member -- Shannon Page!
NO FUNDRAISER?




NO PROBLEM!

Southeast Portland Rotary, each year for many years, has held a decorated "Wreath Auction" at the start of December as its major fundraiser for our Club Foundation, which funds most of our community outreach and charitable efforts. Because of COVID-19 we couldn't do it last year -- and now it appears unlikely that we can do it this year either. We hope to bring it back in 2022.



In the meantime, we held a raffle limited to 99 tickets, offering a donated vacation prize worth $1,200. We succeeded in raising close to $7,500 for the Foundation, which we will combine from our savings to meet our community-oriented commitments in 2021. Thanks to all who participated -- including the several folks who didn't choose to enter the drawing, but simply made a tax-deductible contribution!




Bill Meyer, Club Foundation Treasurer, drew the winning ticket of Scott McNiell, as the winner in our fundraising raffle -- under the watchful eye (and camera) of Kathy Stromvig!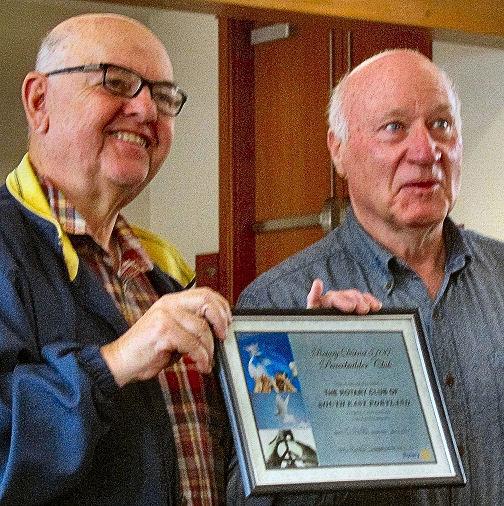 Past Rotary District 5100 Governor Mike Caruso, left, presented Southeast Portland Rotary its plaque officially recognizing it as having elected to become one of the first Rotary "Peacebuilder" Clubs in the world, at noon on Monday, April 1, 2019, at its meetingplace in the Community Room of Moreland Presbyterian Church in Westmoreland. Accepting for the club was its Treasurer and Past President, John Ellis.
At 11 am on Sunday, September 30, 2018, the congregation of Moreland Presbyterian Church moved outside for the dedication of our new Peace Pole. Pastor Brian Marsh is at left; with the dedicatory reading is Josh Dunham in center. Southeast Portland Rotary Club President Kathy Stromvig stands to his left.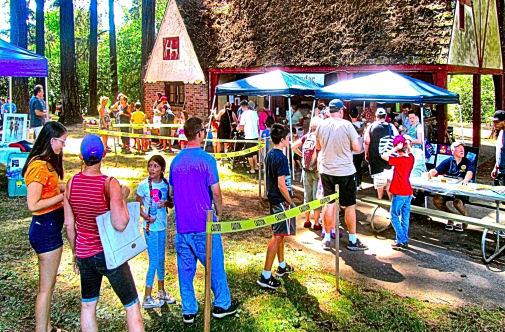 On Sunday, August 5, 2018, Southeast Portland Rotary again spent the afternoon scooping over 1,000 ice cream sundaes at the neighborhood "Sundae in the Park" in Sellwood Park.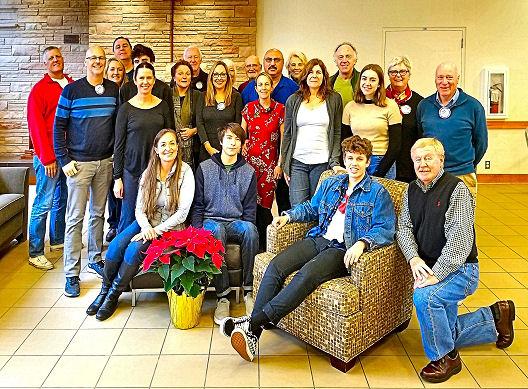 On Saturday morning, December 2, 2017, Southeast Portland Rotary hosted area Rotary Youth Exchange Students and their Host Families for a brunch in the club's meeting room at Moreland Presbyterian Church. Club members provided the buffet brunch. All present gathered for this photo; the club's own current Exchange Student, Lukas Hansen from Norway, is the one seated in the big chair! (Photo courtesy of Kathy Stromvig)
PEACE POLE PLANTED AT FIRE STATION 20. As part of regional Rotary International District 5100's effort to place some 130 Peace Poles in Northwest Oregon and Southwest Washington, the Southeast Portland Rotary Club sponsored one at Westmoreland's Fire Station 20 on S.E. Bybee Boulevard at 1 p.m. on "Earth Day", April 21. On hand for the ceremony were Club President Joel Fields, the Portland Fire Bureau Division Chief of Emergency Operations Tom Williams, several members of the club, and bystanders.
Below:
DAVID F. ASHTON PHOTOS FROM OUR SUCCESSFUL
SOUTHEAST PORTLAND ROTARY CLUB FOUNDATION
2018 HOLIDAY BANQUET AND WREATH AUCTION AT OAKS PARK!
S.E. Portland Rotary photo album
At our annual club Installation and Awards Banquet on June 14, 2017, incoming President David O'Connor (at right) presented the ceremonial gavel plaque to outgoing President Joel Fields.
As part of the annual S.E. Portland Rotary Installation and Awards Banquet on June 14, 2017, longtime member and former Club President Bruce Poinsette (left) was recognized as "Rotarian of the Year".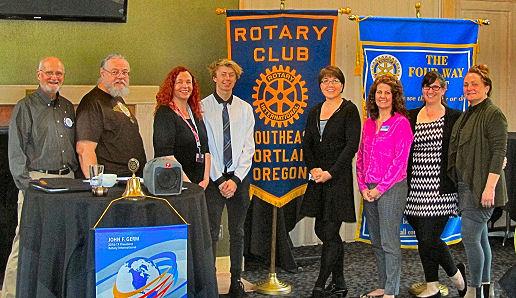 On April 17, 2017, our weekly meeting was devoted to the presentation of the annual Club Foundation Small Grants. Shown here at left is Club President Joel Fields; proceeding to the right are Alan Lohkamp, a recipient for FIRST Robotics Team 1432; Ann Singer, of the Sellwood-based Rogue Pack drama program for troubled youth; a representative of Explorer Post 58; Pamela Kennedy, a Lewis Elementary School teacher developing an innovative "chair project"; Amy and Linda from the Portland branch of the Muscular Dystrophy Association; and Janeen Rundle, a founding member of the Board of the Oregon Music Hall of Fame, with which the club participates in presenting a music education program in Southeast Portland schools.
| | |
| --- | --- |
| TWO NEW MEMBERS IN ONE DAY! On February 22, 2016, the club inducted Paula Johannsen, shown with her sponsor John Ellis, into membership... | ...And also inducted into membership Sellwood attorney Dean Gibbons. Both are fine additions to our club membership! |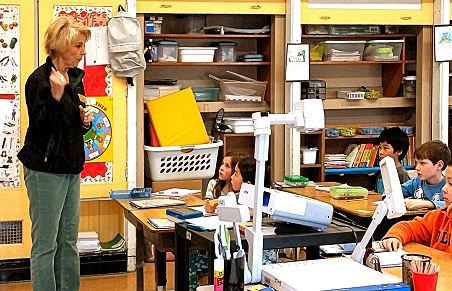 Rotary District 5100, of which our club is a part, has an annual project of presenting dictionaries -- special ones with lots of informative indexes -- to third graders, to whom it is often their "first book". We encourage them to write their name in it as soon as they get it. Our club distributed these to elementary schools in Inner Southeast Portland on Monday, January 26, 2015 -- and here a photographer caught our own Kathy Stromvig in action at the presentation at a Woodstock school.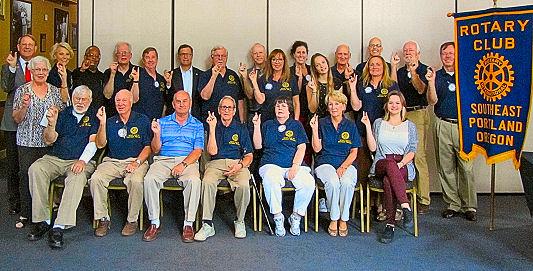 "JUST A LITTLE BIT MORE..." When District Governor Doug Taylor and his wife Linda visited our club on September 8, 2014, his compelling talk included information of how only four countries are left with Polio at this point, and two of them have had less than ten cases this year so far -- which led to the idea for the group photo above, in which the members of our club, visitors, exchange students, and Doug himself (at far left), held up two fingers in a pinch -- showing how only a little more Rotary effort is needed to meet our goal, set three decades ago, of eradicating Polio from the surface of the Earth!
$5,000 CHECK FOR RAFAEL HOUSE!

For 37 years, nonprofit Rafael House has been working to combat domestic violence in the Portland, Oregon, area, and to provide assistance to its victims. On February 24, at its regular weekly meeting, the Southeast Portland Rotary Club, and its Club Foundation, provided a $5,000 grant to assist the charity in its work. Receiving the check at the meeting was Amanda Grebner of Rafael House. Assisting in the presentation were, from left, Club Treasurer Joel Fields; Club President David Tate; Club Service Director and former Club President Kathy Stromvig; and former Club President Joe Amato. Grebner poses with the check. Photo by Mark Hanset.



INSPIRING TALK

In a talk that was by turns humorous, emotional, and inspiring, former Rotary International President Richard D. King (at right) spoke to a combined meeting of Southeast Portland Rotary and Central East Rotary on Thursday morning, September 12, 2013, at "The Ringside" at Glendoveer Golf Course. Both clubs were sponsors of the talk.

King recalled the shock and horror of 9/11, which occurred during his year at Rotary President -- he was in Rio De Janero to talk to a local Rotary Club that day -- and he told how Rotary, which has clubs in nearly every country on earth, is addressing international terrorism. He spoke to a large crowd in an intimate fashion, and received a standing ovation afterward.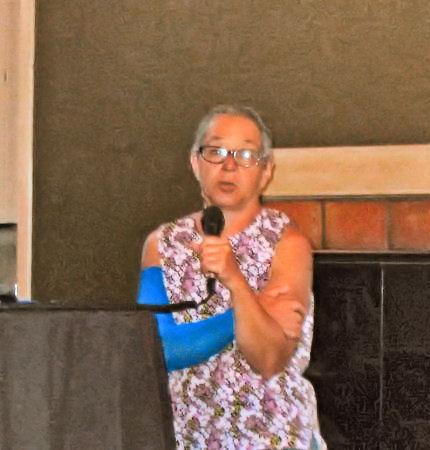 Dr. Wendy Ring, a Rotarian from Arcata, California, spoke to Southeast Portland Rotary on July 22, 2013, about scientific points to be made on the Global Warming issue, including concerns about health effects related to it.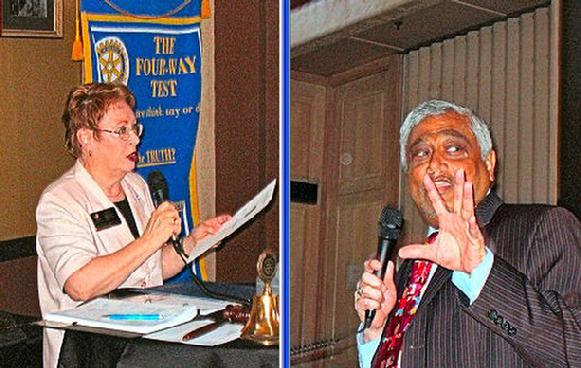 At the June 4, 2013, meeting of Southeast Portland Rotary, District 5100 Governor Deneil Banks (left) presented four citations to the club -- the most received by any club in the district in the 2012-13 Rotary year -- while Shirish Patel (right), the speaker, vigorously made a point during his program about the work of the Rotary International Foundation.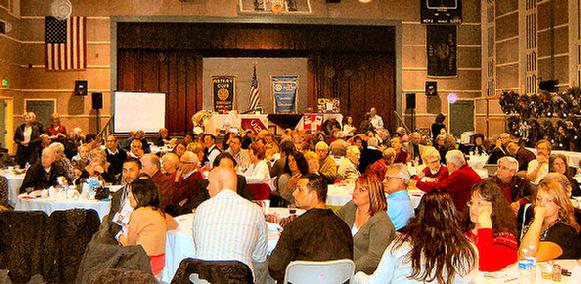 The 2012 S.E. Portland Rotary Foundation Wreath Auction event, on December 1, drew the largest crowd yet, and netted almost $20,000 for the charitable works of the club's foundation in Inner Southeast Portland and elsewhere in the world!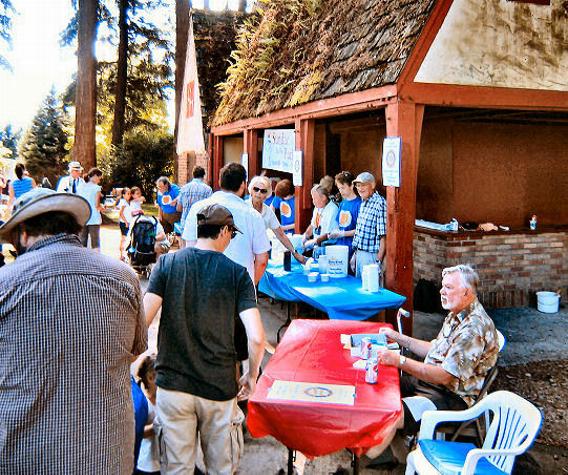 Our club raised $1096.40 scooping 2,233 ice cream sundaes on the sunny and warm afternoon of Sunday, August 5, 2012, at "Sundae in the Park" -- the 33rd annual summer celebration in Sellwood Park sponsored by SMILE, with all proceeds benefiting the Meals On Wheels program of the local Loaves and Fishes branch. Club members, and the members of FIRST Robotics Team 1432 (in the blue shirts) kept the warm crowd well supplied with ice cream sundaes!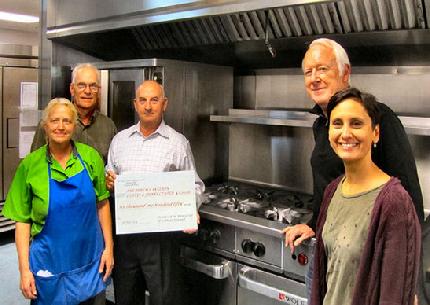 The nonprofit Foundation of the Rotary Club of SE Portland voted to replace the failing stove at the Brooklyn neighborhood Loaves and Fishes Center in July of 2012. With the new stove in the background, shown from left are: cook Linda Rickerd, Tom Maier -- Director of Food Service, Club Service representative Joe Amato (holding the ceremonial $6,150 check), new Club President Bill Meyer, and Loaves and Fishes Center Manager Colette Livermore. The funds come from the annual club Wreath Sale and Auction, on the first Saturday evening of December each year and open to the public, at the Our Lady of Sorrows Gym, S.E. 52nd and Woodstock Boulevard.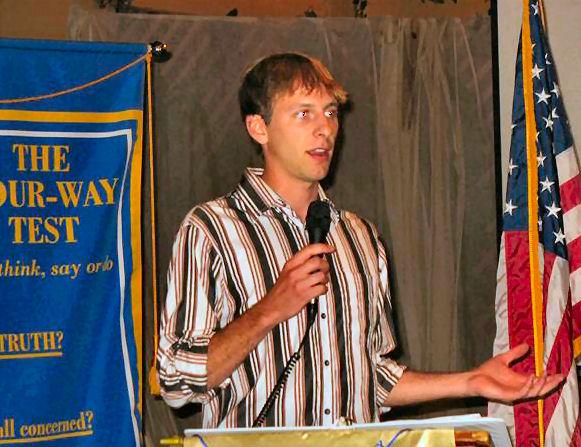 26-year-old Brad Hoffa of Portland, sponsored by Southeast Portland Rotary to the 2009 RYLA week of "leadership training" at Menucha, returned on August 3rd, 2009, to tell the club what a life-changing experience in leadership development it was. Young adults 29 or under are qualified for this annual leadership developmen week, with their costs fully paid by the Southeast Portland Rotary Club. For details, contact a member of Southeast Portland Rotary! Hoffa then went to Uganda as part of the MAPLE microfinance project; he returned to relate his experience at another speaking appearance at S.E. Portland Rotary on Monday, April 26th.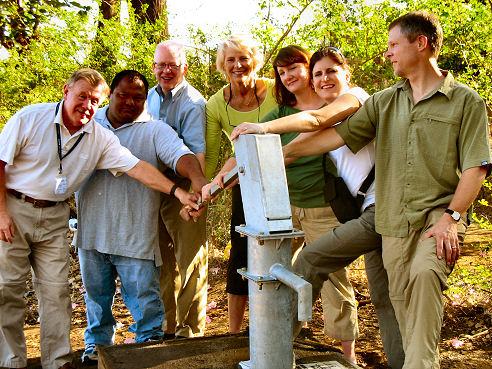 Southeast Portland Rotary's Kathy Stromvig (center) and her husband Jim (left) participated with other Southeast Portland volunteers and Moreland Presbyterian Church in traveling to the village of Santa Clara in El Salvador to drill a well and bring fresh water to the community for the first time. They are shown here with the pump of the finished project in early 2009.
Governor Victor Atiyeh

On Monday, February 8, 2010, former Oregon Governor Victor Atiyeh spoke to Southeast Portland Rotary, and an unusually large number of guests. Atiyeh gave a pointed commentary on the way Oregon State Government is working today, from the perspective of having served in the State Legislature and then the Governor's chair for decades.




There's always an interesting program as part of Southeast Portland Rotary's meetings, and the public is always welcome to visit any of our Monday noon meetings!



| | |
| --- | --- |
| Stan Boquist, who was a member of Southeast Portland Rotary for some fifty-three years, and was Club President and was actively involved in the club for his entire tenure, died at age 90 on March 18, 2015. Boquist received two Purple Hearts and a Bronze Star in the European Theater of World War II, after graduating from the University of Oregon. We will miss Stan. | The club celebrated Stan as he retired from active membership on Monday, November 10, 2014, with a special cake -- and conferred upon him "Honorary Membership". |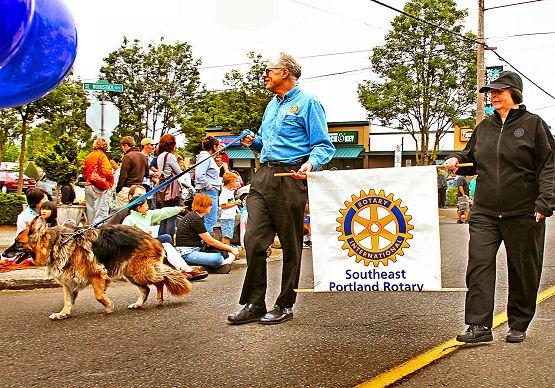 Southeast Portland Rotary is one of the sponsors of the annual Woodstock Festival in Portland's Woodstock neighborhood in mid-July. This year, marching in the parade down Woodstock Boulevard representing the club were Past President Eric Norberg, and Club Treasurer Patricia Nichols. Also representing the club was Drew, the long-haired German Shepherd, who -- as do all Rotarians -- believes in "Service Above Self". (Photo courtesy of Richard Howell)
| | |
| --- | --- |
| Southeast Portland Rotary partnered with other local Rotary Clubs to deliver dictionaries to third grade students in neighborhood Portland Public Schools. We got some awesome thank you's from a few of the students at Grout Elementary School after they received their dictionaries! Click on the icon at right to see them! | |
Club background and history
Each Southeast Portland Rotary Club meeting lasts about an hour -- and, amid a convivial, friendly atmosphere, presents a buffet lunch, a little fundraising among members (but not among the guests!) to benefit community causes, and a speaker or other program of significance to the community.

Each new Rotary Year starts on July 1, and as with all Rotary Clubs, new officers are installed and awards to members given at the annual Installation and Awards Banquet at the end of June. Photos at right are from this year's banquet! Special honors are given to a member chosen as the club's "Rotarian of the Year", and for "perfect attendance". You don't have to attend every meeting to be a Rotarian, but Rotary honors those who do. If you are on vacation or out of town, you can maintain perfect attendance by attending the meeting of any other Rotary Club anywhere -- which is fun to do in any event! And the "makeup" can be done

+

13 days, so it's really not hard to maintain (and be honored for!) perfect attendance. In addition to Joe Amato's exceptional 35 years of perfect attendance, seven other members were honored for it at the banquet -- ranging from 1 year to 28 years' duration.




For a look at upcoming programs at our meetings, and a list of our members,

CLICK HERE

!

To learn more about all the Rotary Clubs in District 5100, and when and where all their meetings are held, CLICK HERE!

Although for Rotarians, visiting other clubs to "make up" missing their own club meeting is part of the fun -- when it's difficult to do, it now is entirely accepted to "make up" attendance by visiting a "virtual" Rotary Club --

online!

CLICK HERE

to visit the first and best-known of these --

"

Rotary Club One".

(Our club members making up there

may

need to know that

we

are "Club 310".)



You don't need an invitation to visit one of our meetings

-- if you're interested in the program that day, curious about Rotary (the ORIGINAL service club, now worldwide), or considering joining our club and just would like to see what it's like -- drop in any Monday! We'll look forward to meeting you, and hope you'll enjoy your visit and will come visit us again -- or will consider joining us!




President Claudia Stewart passes the "crown of club presidency" (which she obtained from a hamburger restaurant at no charge) to her successor, 2009-10 President Eric Norberg.

Joel Fields, left, was honored for his first year of "perfect attendance" at the 2009 Awards Banquet; while longtime member and Past President Joe Amato (right) was honored for his club-leading 35 years of "perfect attendance"!

A highlight of the club's "Awards and Installation Banquet" on June 30, 2009, at Portland Golf Club was the presentation to past club President Kathy Stromvig of the "Rotarian of the Year" award; Kathy (left) received the award from Assistant District Governor Deneil Banks (right).
A happy 48th anniversary for Southeast Portland Rotary!
On Monday, November 10, 2008, Southeast Portland Rotary observed its 48th anniversary, with a cake, and an assemblage of club presidents past and present. Conducting the special commemorative program was Ed Atiyeh, the only charter member remaining in the club and its first President. He also went on to serve as District Governor, but he still regularly attends the weekly meetings of Southeast Portland Rotary!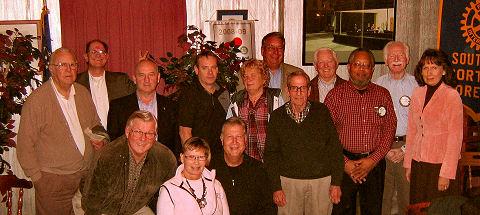 To conclude the 48th anniversary meeting, past and present club presidents posed in the meeting room at Country Bill's in Woodstock. Standing, from left, are Stan Boquist, the irrepressible Alex Jones, Joe Amato (the first club president to serve twice), Brian Marantette, Juanita Powell, John Normandin, Ed Atiyeh, Chuck Dimon, Bruce Poinsette, Doug Foley, and Sharon Gitt (who was the club's first woman president). In front, from left, Bill Pederson, Claudia Stewart (the 2008-09 Club President), and Art Johnstone.
For over 100 years,
ROTARY
has meant fellowship, benefiting the community, and "Service Above Self"!